Share your experience with the IPT!
Virtual edition 2020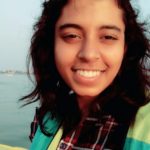 The problems of IPT are in itself quite interesting and engaging. That, coupled with a small budget makes all of it more fun! From borrowing glasses to using chairs and random stuff at home to make our experimental setup during the lockdown, we did it all while being miles away from our teammates. The experiments, late-night discussions, and discussions during the fights both in nationals as well as in the virtual tournament provided us with an overall enriching experience. Thanks to all the organizers for making everything happen so brilliantly this time despite the circumstances!
Bhavna Prasad
IISER Bhopal
India