Share your experience with the IPT!
Gothenburg 2017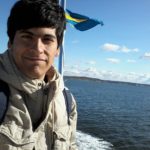 Best part of IPT?
Interacting with colleagues, exchanging ideas and point of views for look into solutions to the same problem, taking into account aspects that were not previously considered.
Would I recommend it?
Yes, definitely. In my country we do not have such experiences like the IPT so having a first hand experience like this open your perspective about how to look physics research and how physics is in your everyday life.
Manuel Morgado
Universidad Simón Bolivar
Venezuela